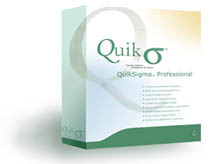 QuikSigma Professional - Download Version 2
Six Sigma Statistical Software
QuikSigma updates are distributed as a complete installation package. You will need a valid serial number in order to use QuikSigma. If you are updating, your serial number should stay intact. You should first uninstall, then install the new update. All your six sigma project files should remain intact.

The distribution file is available in two formats. The MSI package is the easiest to install. However, some systems don't allow downloading those file types. In that case, download the ZIP package and extract its contents with a utility like Winzip.